Steven Seagal's Hollywood Film Career
Past Films
1982- The Challenge
The Challenge (1982) / Sword of the Ninja (1982)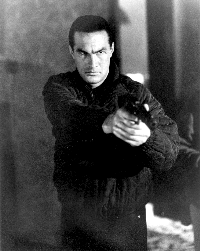 Martial Arts Co-ordinator
1988- Above the law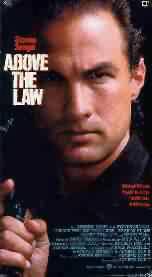 Above The Law (1988) / Nico
Actor & Producer & Writer, Nico Toscani
120 minutes- U.S.A., 1988, Video, SS
Directed by Andrew Davis and starring Steven Seagal, Henry Silva, Pam Grier Sharon Stone, Daniel Faraldo
Story: A renegade cop bucks the system after he uncovers a covert CIA drug-running operation in Chicago.
1989- Hard to kill
Hard To Kill / The Seven Year Storm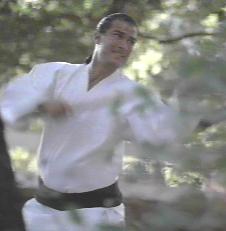 1990- Marked fot death
Marked For Death (1990) / Screwface
Actor & Producer, John Hatcher
120 minutes- U.S.A., 1990, Video, SS
Directed by Dwight H. Little and starring Steven Seagal, Basil Wallace, Keith David Joanna Pacula, Tom Wright
Story: A two-fisted DEA agent's retirement is shattered when Jamaican drug dealers invade his suburban Chicago neighborhood
1991- Out for Justice
Out For Justice (1991) / The Prince of Our Blood (working title)
Actor & Producer, Gino Felino
92 minutes- U.S.A., 1991, Video
Directed by John Flynn and starring Steven Seagal, William Forsythe, Jerry Orbach, Jo Champa
Story: A cop declares war upon a bunch of maffia-members in Brooklyn.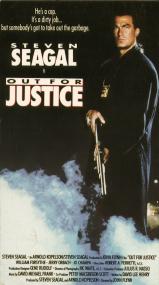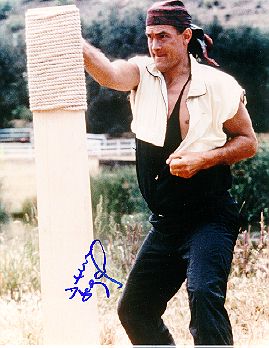 1992- Under siege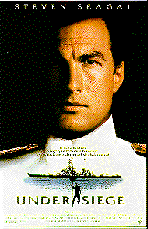 1994- On deadly ground
On Deadly Ground (1994) / Rainbow Warrior or Spirit Warrior (working titles)
Actor & Producer & Director, Forrest Taft
120 minutes- U.S.A., 1994, (CC), (PA), Video, SS, In Stereo
Directed by Steven Seagal and starring Steven Seagal, Michael Caine, Joan Chen John C. McGinley, R. Lee Ermey, Shari Shattuck
Story: An ex-CIA agent declares war on an Alaskan oil company when substandard equipment threatens lives and the environment.

1995- Under siege 2
Under Siege 2: Dark Territory (1995) / Under Siege 2
Actor & Producer, Casey Ryback
105 minutes- R, U.S.A., 1995, (CC), Video, SS, In Stereo, Adult language, graphic violence
Directed by Geoff Murphy and starring Steven Seagal, Eric Bogosian, Katherine Heigl Everett McGill, Morris Chestnut, Kurtwood Smith
Story: A former CIA agent squares off against terrorists who have hijacked a train and threatened to launch orbiting missiles
1996- Executive Decision
Executive Decision (1996) / Critical Decision
Actor, Lt. Colonel Austin Travis
135 minutes- R, U.S.A., 1996, (CC), Video, SS, In Stereo, Adult language, violence
Directed by Stuart Baird and starring Kurt Russell, Halle Berry, John Leguizamo, Steven Seagal, Oliver Platt, Joe Morton
Story: A commando squad must conduct a midair assault upon a hijacked plane loaded with terrorists and a deadly nerve gas.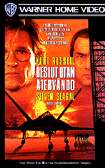 1996- Glimmer man
The Glimmer Man (1996)
Actor & Producer & Songwriter, James Cole
90 minutes- R, U.S.A., 1996, (CC), Video, SS, In Stereo, Adult language, nudity, violence
Directed by John Gray and starring Steven Seagal, Keenen Ivory Wayans, Bob Gunton Brian Cox, Michelle Johnson, John Jackson
Story: A former government operative and a Los Angeles detective join forces to unmask a serial killer who preys on families.
The Glimmer Man was available for rent on tape, March 11, 1997 and on laserdisc, give or take, on April 10, '97. The vhs tape will be available for sale September 23rd. For those of you who are really hi-tech, Glimmer Man has been released in dvd format.
1997- Fire down below
Filming was completed in early fall, '96 in eastern Kentucky ( Breathitt, Leslie and Perry counties) and Louisville. The screenplay is by Jeb Stuart and Philip Morton and directed by Felix Alcala with the cast including Marge Helgenberger, Randy Travis, Levon Helm, Harry Dean Stanton, Kris Kristofferson, and Steven Lang. Look for action and music, lots of the latter, so, I think, get ready for something a little different than Seagal's earlier movies. Steven's recent appearance on Rosie O'Donnell's talk show again emphasized music, 'swampy' music as he calls it.
The plot involves an EPA agent (Seagal) who goes undercover in a small Kentucky community to investigate reports of toxic dumping in old, abandoned underground coal mines. As he becomes more involved with the investigation , he discovers dark family secrets of his new love interest that ultimately threaten the investigation and his life. The release date is scheduled for September 5th. A Warner Bros. film. Over a year ago. we bravely posed the question, "does Steven sing"? We have the answer; he does and has been seen recently at the LA House of Blues after the premiere of The Glimmer Man as well as on stage with Levon Helm's The Band in an October '96 concert held in New Jersey. Steven does sing and play guitar; look for him to play the guitar in Fire Down Below. An alert reader sent along a copy of a music CD entitled 'Music From the Films of Steven Seagal', featuring the soundtracks of Hard to Kill, Above the Law and Out for Justice, music by David Michael Frank. The music is fun to hear again but more informative is a long interview with the man himself....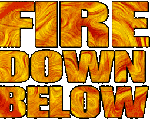 1999- The Patriot.
The Patriot, an independent film, completed principle photography in the Fall of 1997. Mr. Seagal plays Dr. Wesley McClaren in this film written Paul Mones (he wrote Jean-Claude Van Damme's The Quest and Double Team). It was based on the book ``The Last American'' by William C. Heine. Dean Semler has been brought in to direct and Mr. Seagal is reportedly thrilled. They were supposed to make a film together two years ago called The Secret Smile but it was shelved at the last minute and Seagal did The Glimmer Man instead. Mr. Semler won a Oscar for his camera work on Dances With Wolves; this will be the second film he's directed.The first was FireStorm with Howie Long and Scott Glen, who worked with Mr. Seagal on his first movie The Challenge. The Plot? A biochemical weapon is released in Montana forcing a quarantine of the entire state. It is up to Seagal to save everyone. Mones says, "Steven is perfect for this role, portraying someone who learns how to survive and be resourceful."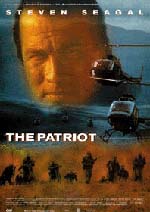 Steven Seagal's Martial Arts History